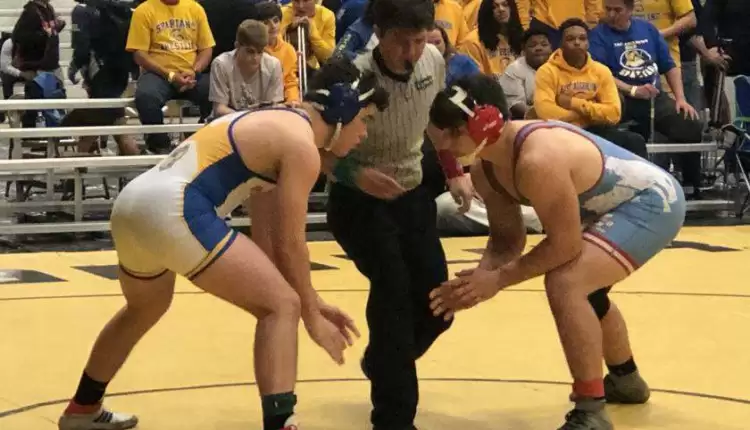 Transition time for Zachary Sports: First up wrestling | Zachary
Transition time for Zachary Sports: First up wrestling | Zachary
The Zachary High School Broncos are in the thick of district football play with hopes for a playoff run that ends in another state championship. Though the swim team competes in the state meet on Nov. 18 and the boys and girls cross country teams compete in the state meet in Natchitoches Nov. 17-18, the change in the color of leaves in early November brings to mind the transition to winter sports.
Starting, or in the process of starting, winter sports include wrestling, basketball, indoor track and field, soccer and powerlifting.
The ZHS wrestling team will be hosting "Kickoff at the Corral" on Saturday, Nov. 14. The 2020-2021 wrestling schedule is loaded with tournaments and duals through November, culminating in the Greater Baton Rouge City Championship at Catholic High School on Feb. 12-13 and the LHSAA State Championships at the Baton Rouge River Center on Feb. 25-27.
Opportunities to see the team in action at home include the Big Horse Open on Saturday, Dec. 12 and a Senior Night duel with Catholic High on Jan. 19. The 2019 Big Horse Open featured 16 teams with over 100 wresters from the State of Louisiana.
"We are excited by what we see in our wrestling room on a daily basis as the wrestlers are developing and learning a lot in the process," said ZHS coach JP Pierre. He noted that this year's emphasis is on "getting them more physical and having faith in their ability to wrestle anyone."
The Broncos will have five seniors this year: Sheriff Hartley, Riley Messer, Trey Anderson, Garret Keaton and Lane White.
"They have put in some great work since we have been back on the mat and they have all competed in varsity matches over their careers, now it is time to put it all together and make some memories," Pierre said.
Pierre said that though his seniors are in their final year, they have to understand that improvement has to happen over time. "The goal is February (City and LHSAA Championships) and everything up to that point is learning and growth," Pierre said.
Pierre is also excited to have junior Ashton Freeman returning after a fourth-place finish at 220 pounds at last year's state championship. Freeman, a starter on the defensive line for the ZHS football team, will hopefully be joining the wrestling team late as the 5A State Championship is scheduled for Dec. 29. Freeman will likely be moving up to heavyweight. "It will be a challenge for him to learn to wrestle at a bit of a slower pace, but he is more than capable of making the move and winning a state title," Pierre said.
Pierre indicated that he looks forward to some great competitions and seeing how the team develops throughout the year.
Upcoming ZHS basketball schedule
The ZHS girls basketball team will jump start the preseason Thursday with a jamboree at Walker. They will have to prepare quickly as the East Baton Rouge tournament will be held Nov. 21-24 at Scotlandville. The boys will open play on the road Nov. 17 at Holy Cross. St. Augustine will travel to Zachary on Nov. 27 for the ZHS boys home opener.
Update on former ZHS Athlete Mariah Clayton
Former ZHS tennis and volleyball player Mariah Clayton has had a busy fall and upcoming winter. After a volleyball career at Southern where she was a two-time captain, she is currently working on her master's degree in school counseling. This fall she has assisted coach Cheri Perry during the volleyball season and began competing in the 69th Miss USA pageant at Elvis Presley's Graceland earlier this month.