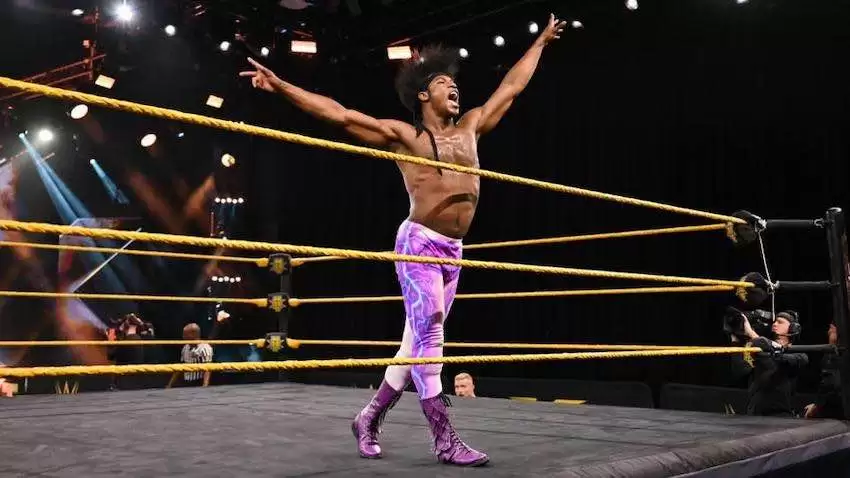 The Velveteen Dream reportedly has been released by WWE
As per PWInsider and FW4Online, The Velveteen Dream has been released by WWE.
The Velveteen Dream (real name Patrick Clark Jr.) had not competed in a match on NXT television since last when he lost to losing to Adam Cole. He only wrestled five times over the past four months.
As part of the sixth season of Tough Enough, he was signed by WWE in the fall of 2015 and competed under his real name for nearly two years. He debuted as The Velveteen Dream character in the spring of 2017, and quickly became a fan favorite.
Dream won the North American Title from Johnny Gargano in back on the February 20, 2019 episode of WWE NXT.  He held it through September of that same year, losing it to Roderick Strong after 231 days.
Dream was part of the Speaking Out Movement in April of 2020 with allegations of sexual abuse and misconduct.  He was accused he of sending explicit pictures to underage boys. More allegations followed in June.  Dream denied all allegations stating that a private photo was shared without his consent or knowledge. He then further stated that he worked with a third party to look into the matter." He was also involved in a car accident last June and removed from WWE television as a result. 
Last August, Paul Levesque was asked by CBS Sports about the allegations and said WWE looked into them and Levesque told CBS Sports that WWE investigated the allegations and that WWE "didn't find anything, stating the reason he was taken off TV was due to the car accident.
As of this report, WWE has not publicly confirmed Velveteen Dream's release.